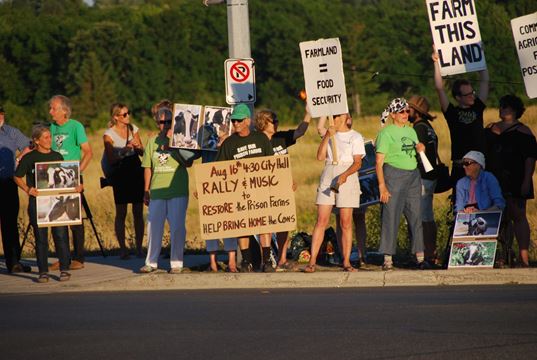 Aric McBay - Out Standing in Our Field
This week could be a turning point for the prison farm campaign. On Aug. 8, we saw the sixth anniversary of the massive blockades at Collins Bay, and a substantial crowed celebrated those who have kept a weekly vigil since 2010. And Tuesday, Aug. 16 is the government's public consultation on the prison farm restoration.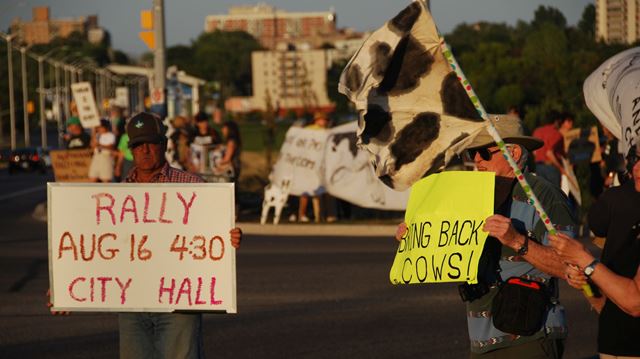 The official 6 p.m. consultation at City Hall will be preceded by a public rally at 4:30 p.m. in Confederation Basin. Speakers from the campaign will be joined with musicians, including Sarah Harmer and Chris Brown, along with former prison farm worker Pat Kincaid.
Ralph Goodale, Minister of Public Safety and Emergency Preparedness, will also be in Kingston that day for the events.
The future of the prison farms could now hinge on the size of the turnout on Tuesday night, and the strength of the community's stand.
As we have seen, the prison farm movement has been persistent and enduring.
A core group of prison farm supporters have held a vigil in front of Collins Bay Penitentiary every Monday night since August, 2010. These dedicated people have been there in every kind of weather, regardless of heat, cold, wind, rain, for well over three hundred Mondays.
The number of vigil-keepers has varied over the years, but always a core group has kept the flame going. That core group was recognized by Dianne Dowling on behalf of Save Our Prison Farms at the sixth anniversary vigil.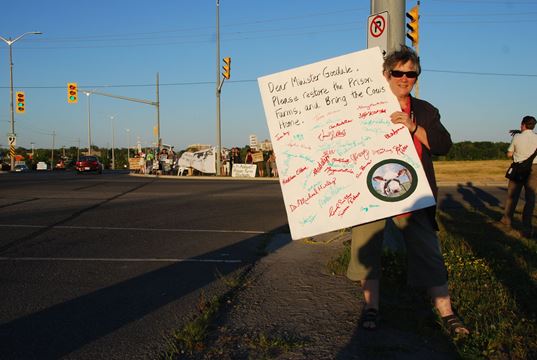 "It's inspiring and valuable to the campaign that they've kept the issue in front of the public through their persistence," said Dowling. Save Our Prison Farms awarded each of the core vigil-keepers a gift: a set of cards based on a painting by local artist Ann Barlow. Barlow's painting depicts a calf named Hope, the first calf in the Pen Farm Herd Co-op.
That herd, as you may know, was formed out of former prison farm cows bought at auction by prison farm supporters. Sustained by community shareholders (mostly families and small groups), the Pen Farm Herd Co-op has grown in the last six years.
According to Meela Melnik-Proud, the Co-op's secretary, the number of shareholders in the group has grown—reaching 100 members in its first week in August, 2010, it now has over 200.
And the herd now numbers 19 cows, seven heifers, and 10 calves, hosted by eight different farms in the area.
Co-op members are itching to see those animals finally restored to the prison farm where they belong. And after six years of continuing to advocate for the restoration, they hope to see swift progress after the official public consultation concludes.
Furthermore, events of the past six years have only underscored the importance of protecting the prison farm lands. Increasing food prices and extreme weather associated with climate change make it clear that we need to take good care of every bit of farmland we have.
And if the community response on Tuesday night is as strong as it's been in the past, the prison farm movement might finally be approaching the finish line.
Aric McBay - Out Standing in Our Field
This is been a record-breaking year for farmers, and not in a good way.
Globally, the past year has been the hottest year ever recorded. Indeed, each month on Earth has been hotter than the last; June was the fourteenth consecutive record-breaking month. The data from July isn't available yet, but we have every reason to expect it will continue the trend.
In Ontario we've seen record-breaking drought. Several parts of Ontario, including Kingston and areas east of it, saw their lowest precipitation ever recorded for April through June. And things did not improve in July.
You can see it in our fields. You can see it in our dry pastures, in which grass goes yellow and stops growing. You can see it in the dust the cows kick up as they walk to the very back of the farm to reach pasture which hasn't been grazed yet.
You can see worry in the faces of farmers. Plants are stressed, farmers are stressed. This summer I've found myself thinking about the Dust Bowl on many a hot afternoon.
Our vegetable gardens—irrigated to the maximum capacity of our water system—look green compared to the pastures. Our vegetable yields are good, considering. That's in large part because my partner Emily is such a careful planner, and because our staff are so hard working.
Still, this weather is only a glimpse of the climate change to come.
The hot, dry weather is shocking a contrast to February 16 of this year, which social media dubbed "snowmageddon". On that day we saw record-breaking snowfall in parts of Eastern Ontario. Ottawa received nearly half a metre, smashing the single-day record set in 1947.
We had it, too; on our farm, the sudden wet snowfall crushed our only greenhouse, snapping strong metal ribs into pieces. The engineers who designed our greenhouse did not anticipate the rapid onset of climate change, did not anticipate the many ways farming is being forced to change.
My family drove 12 hours to come and help us rebuild. We replaced the greenhouse frame with something twice as strong. We were fortunate to have family support, to be able to afford to replace that infrastructure.
Around the world, most people are not so lucky. It's the inequality of climate change; we in the wealthiest parts of the world, who release the most greenhouse gases, are also best able to adapt. The small farmers and peasants who produce most of the world's food, on the other hand, have the fewest material resources to cope with global warming.
And the problem of global warming is not limited to rural areas. Sea level at New York City has already increased by a full foot versus a century ago. Sea level there is expected to increase another foot in the next fifteen years, along with higher storm surges and more intense hurricanes.
Too often, climate change is framed as something gradual that our grandchildren will have to worry about. This attitude is not just a simple misconception, but also the result of ongoing PR campaigns.
It was recently revealed that the oil and gas industry has known about climate change for nearly 50 years. But—much like the tobacco industry did in the 1970s—they've funded groups to deny or cast doubt on the reality of climate change.
These well-funded groups have laid siege to climate scientists, inducing many climate scientists to release only conservative models, predicting smaller amounts of climate change to avoid charges of "alarmism."
But we should be alarmed; we are well on course for the future that climate reports a decade ago called "the worst case scenario."
The problem—as we have seen this year—is not just the increase in degrees, but the increase in extremes. A year that can crush our greenhouse with record snowfall, and then give us record drought six months later. It's easy to see why some people prefer the term "climate chaos" over the more mundane "climate change".
In any case, it's just the beginning. But it's the time to act. Changes now can still make a difference.
It's certainly good to support sustainable farms and local infrastructure for climate change adaptation. But we can't adapt to climate change at its worst.
We need to reduce our greenhouse gas emissions dramatically.
The question is: How fast can we do it? That's the only climate record we should be trying to break.